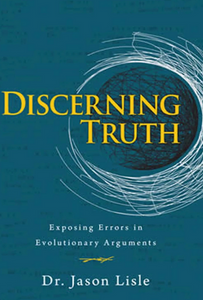 ABR
Discerning Truth: Exposing Errors in Evolutionary Arguments
Discerning Truth
is a practical and extremely engaging book on the use of logic in the quest for truth regarding man's origin.
This book is a clear and concise guide for every believer in defending your faith in the face of adversity.
Whether in the classroom, the workplace, or the neighborhood, evolutionists agressively criticize Christians for their belief in God and His glorious creation. Are you ready? What will you say when your faith is challenged by those claiming to speak in the name of science or reason? 
Filled with anecdotes from real-life examples that help clarify logical issues in apologetics.
Equips you to become skilled at distinguishing sound arguments from emotionally-charged rhetoric.
Helps any believer refute evolutionary perspectives, and to help others to do so as well!
Dr. Jason Lisle
Softcover: 144 pages
Level: Layman
---
More from this collection