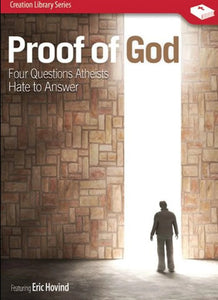 ABR
Proof of God DVD
What do skeptics truly believe? What key evidence will satisfy an atheist? In this high-energy lecture, Eric Hovind answers these questions and reveals four more that atheists hate to answer.
Knowing and using these four simple questions can revolutionize your outreach to anyone who says,God is not real. There is even a conversation with a young man who has joined the increasing trend to embrace atheism. Includes quotes from Christopher Hitchens, Paul Baird, David Hume, and other famous anti-God spokesmen whose own words call atheism into question.
There is one thing that the Bible says that God must give to anyone before they will receive the truth - even atheists. Understanding this fact will give viewers a deeper passion and empathy for those lost in the pride of their misplaced belief.
Eric Hovind
DVD 59 minutes
---
More from this collection