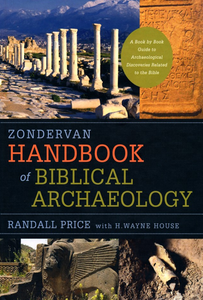 Associates for Biblical Research
Zondervan Handbook of Biblical Archaeology
A Book by Book Guide to Archaeological Discoveries Related to the Bible
The Zondervan Handbook of Biblical Archaeology is a reference resource for anyone interested in archaeology and its relevance to biblical, theological, and apologetic studies. Illustrated with full-color photos, charts, and maps, this handbook provides readers with a wealth of information that complements and supplements the historical context of the Bible.
The Zondervan Handbook of Biblical Archaeology includes an introduction to the field of archaeology for readers who might not be familiar with the methods, practices, and importance of this area of study. Included in this section is an annotated bibliography of important biblical archaeological reports, books, and journal articles for further study. The rest of the handbook is devoted to a book-by-book (Genesis through Revelation) presentation of the most significant archaeological discoveries that enhance our understanding of the biblical text, including a section on the intertestamental period.
A rich array of visual images including photos of excavations sites, coins, maps, artifacts, and historic structures allows readers to immerse themselves in the world of the Bible. This monumental work gives readers the opportunity to visit ancient sites and historical places while remaining in the comfort of their own home.
Dr. Randall Price
Level: Layman
Hardcover, 416 pages
---
More from this collection