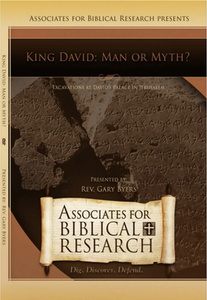 ABR
King David: Man or Myth? DVD
'And your house and your kingdom shall be made sure forever before me. Your throne shall be established forever.' -2 Samuel 7:16
'Paul, a servant of Christ Jesus, called to be an apostle, set apart for the gospel of God, which he promised beforehand through his prophets in the holy Scriptures, concerning his Son, who was descended from David according to the flesh and was declared to be the Son of God in power according to the Spirit of holiness by his resurrection from the dead, Jesus Christ our Lord... -Romans 1:1-4

The location of the Holy City of Jerusalem has been long-known. However, the exact location of the Jebusite city and the City of David were in doubt until the last half of the 20th century. ABR Staff Archaeologist Gary Byers reviews the archaeological evidence from the Tel Dan Stela, the Moabite Stone, and the Shishak Inscription pertaining to the historicity of David and his kingdom.
Now, in the new millennium, archaeologists may also have identified the actual remains of King David's palace, where archaeological excavations have revealed evidence in accord with the biblical accounts. Rev. Byers shows why you can trust the Bible's presentation of Israel's great king, David as real history.
50 minute DVD, plays in all regions, not coded.
Copyright, Associates for Biblical Research. All rights reserved.
Produced by: NathanWilliam.net
Notice to Foreign customers: the shipping and handling price that is calculated in PayPal is based on % of dollar sales, not weight. This DVD is a light product, so ABR will refund foreign customers for any excessive shipping and handling overcharges. Please contact the ABR Office if you have questions.
Copying or posting this copyrighted presentation on YouTube or any other media sharing site is a violation of piracy law. The unauthorized reproduction or distribution of this copyrighted work is illegal. Criminal copyright infringement is investigated by federal law enforcement agencies and is punishable by up to 5 years in prison and a fine of $250,000.
---
More from this collection