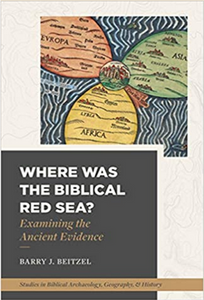 Associates for Biblical Research
Where Was The Biblical Red Sea?
Where was the Red Sea of Exodus?

Exodus records that the waters of the Red Sea (or Reed Sea) opened up to deliver Israel and plummeted down to destroy their Egyptian pursuers. But if the Red Sea cannot be located, can we trust the claims of the Bible? Some have suggested relocating the events. Others suggest they never happened at all.

In Where Was the Biblical Red Sea? Beitzel challenges popular alternatives and defends the traditional location: that the biblical Red Sea refers to a body of water lying between the eastern Nile Delta and Sinai. Beitzel rigorously reexamines the data--both typical and overlooked--ranging from biblical and classical sources to ancient and medieval maps. His comprehensive analysis answers objections to the traditional view and exposes the inadequacies of popular alternatives.

Ancient geography excavates the biblical world and its story. Readers will better understand and appreciate the biblical story as well as its historicity and reliability. Where Was the Biblical Red Sea? is a foundational reference work for any discussion of the Exodus event.
---
More from this collection