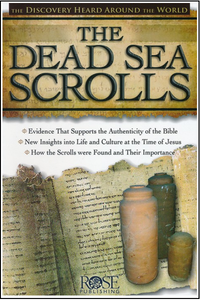 ABR
The Dead Sea Scrolls Pamphlet
The Dead Sea Scrolls discovery is one of the most important finds to confirm that the Bible was translated accurately . Many people believe (wrongly) that the Dead Sea Scrolls were the originals of the Bible. They are actually the oldest copies we have of portions of the Old Testament. The pamphlet includes the story of how the scrolls were discovered, and includes maps, time-line, and photos of the caves and scrolls.
Excellent for beginners, youth and Bible Study!
Click on picture to see full fold out.
Randall Price, Ph.D
Pamphlet Fold-Out, Rose Publishing
---
More from this collection