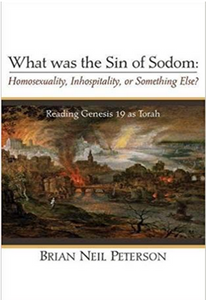 Associates for Biblical Research
What was the Sin of Sodom: Homosexuality, Inhospitality, or Something Else?
Virtually every scholar on both sides of the same-sex discussion eventually addresses the account of Sodom found in Genesis 19. However, in recent years, scholars have tended to downplay the importance of this chapter in relation to this debate. This book challenges this trend and seeks to demonstrate how the account of Sodom plays a key role in our understanding of a God-ordained sexual ethic, especially in light of Genesis as Torah--instruction for both ancient Israel and for the Church.
""Peterson has written one of the best books to deal with the contemporary issues surrounding homosexuality, lesbianism, gay rights, and gay marriage. He convincingly shows that the arguments of both past and contemporary defenders of same-sex behavior fall far short of both Christian tradition and logical coherence. He affirms there is no positive assertion anywhere in the Bible that God accepts same-sex behavior, nor is there an exhortation that Christians or culture should accept such behavior."" --James B. De Young, ThD, Author of Homosexuality: Contemporary Claims Examined in Light of the Bible and Other Ancient Literature and Law
""Peterson offers a thorough and forthright assessment of one of the Old Testament's most hotly-debated biblical passages. Regardless of one's position on the contemporary issues related to this challenging text, all who are interested in the relevance and application of scripture to the issue of human sexuality will need to reckon with Peterson's analysis and argument."" --Brian P. Irwin, Associate Professor of Old Testament/Hebrew Scripture, Knox College, Toronto School of Theology, University of Toronto "
"In this thorough treatment of biblical and other Sodom texts, Peterson makes a vital contribution to the current debate about the Bible and same-sex sex. The hot-button issue is never far removed from what otherwise could on its own be merely 'dry' exegesis, making the book an interesting and important read. This is good, careful, indispensable scholarship from a good mind, and a brave one at that. Sodom is back on the docket."" --J. Glen Taylor, Associate Professor of Old Testament and Semitic Languages, Wycliffe College, University of Toronto "
"In simple, readable language, based on solid scholarship and careful research, Peterson has written the definitive treatment of the sin of Sodom, making clear that a key reason the city was destroyed was rampant sexual sin, manifest specifically in homosexual acts. By refuting the pro-homosexual, revisionist interpretations of Genesis 19, Peterson has done a real service to the church and to all those who want to take the scriptural account seriously."" --Michael L. Brown, PhD, Author of Can You Be Gay and Christian?
Brian Neil Peterson is Assistant Professor of Old Testament and Hebrew at Lee University in Cleveland, Tennessee. He is the author of Ezekiel in Context (2012), The Authors of the Deuteronomistic History (2014), and John's Use of Ezekiel (2015).
---
More from this collection