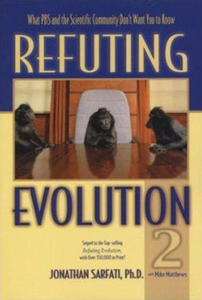 ABR
Refuting Evolution II
Respected CMI scientist Dr. Jonathan Sarfati, author of the best-seller Refuting Evolution, has written a sequel that comprehensively refutes arguments to support evolution (as presented in TV documentaries and Scientific American). Read world-leading evolutionists in their own words, and then find straightforward answers from science and the Bible. Refuting Evolution 2 will prepare you to answer the best arguments thrown at you by peers, teachers, neighbours and skeptics.
Jonathan Sarfati, Ph.D.
Paperback, Creation Book Publishers, 240 pages.
Level: Laymen
---
More from this collection