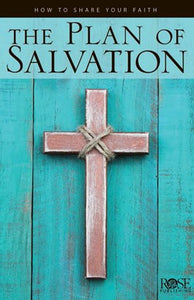 Associates for Biblical Research
The Plan of Salvation
Publishers description:
Packed with simple summaries, witnessing tips, and helpful illustrations, such as Romans Road, this easy-to-understand pamphlet shows how to present the Gospel in a simple yet effective way. It answers key questions, including: What is the good news? How can I explain the gospel? and How can I share my faith?

Enjoy having word pictures, simple explanations, and key Bible verses at your fingertips while covering these important topics:

4 keys to understanding the good news of the Gospel
5 insights into what it means to be a disciple of Christ
6 ways God promises to help us when sharing the gospel
Over 10 helpful witnessing tips and evangelism tools (Includes helpful illustrations, quick-reference charts, and Romans Road)
46% of Born-Again Christians Didn't Share Their Faith Last Year
A nation-wide Barna study reported that only half (54%) of protestant Christians said they shared the Gospel at least once this past year to someone with different beliefs. That means over 46% (that's 68 million Christians) did not share their faith for an entire year.
Although almost all Christian agree that they "have a personal responsibility to share their faith with others," many don't know how.
So, the question is not should we share our faith, it's how?
This slim-line pamphlet explains the problem of sin, our need for forgiveness, and the good news of Christ in a simple and relevant way. Find out what it means to be a disciple of God and how you can "make disciples." (Great Commission, Matt. 28:19).

Perfect for individual use, Bible studies, discipleship classes, evangelism training, new believer's classes, church giveaways, or to keep in your Bible to reference when someone has a question. Fits inside most Bibles covers.