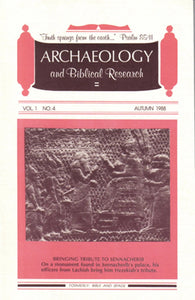 ABR
1988 Bible and Spade Back Issues
Four issues of BIBLE and SPADE produced in 1988. Order all four at a discount! Issues listed with an *asterisk* are available as photocopies.
Autumn 1988
Has Gomorrah Been Found? - Before They Were Sherds: Pottery in the Bible - Hezekiah's Tunnel Thwarts Sennacherib - Who's Who in Archaeology: Layard

Summer 1988
The Exodus/Conquest Mix-Up - Dinosaur and Humans Lived Together - Pottery Making in the Bible - Is There Enough Time for Evolution to Occur?

Spring 1988
Treasures of Egypt - Jesus on Infallibility - Bible Names on Seals - Light from Nuzi

Winter 1988
Is This Noah's Ark? - Where Are Bethel and Ai? - Has Anyone Created Life in a Test Tube? - Who Wrote Genesis?
---
More from this collection